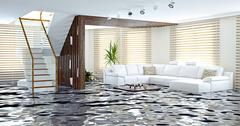 Effective water damage cleanup is contingent on you knowing and doing a few things. The good news is that each of them is very simple. From water damage restoration experts at D&W Restoration in the Mckinney area, below are four simple things you can do to ensure the water damage restoration process goes smoothly.
Don't Procrastinate
Procrastinating is one of the absolute worst mistakes you can make after a flood. The longer the water remains in your home, the greater the damage will be. Each minute you wait to remove the water, the damage increases. After a flood, you should immediately contact a cleaning and restoration crew for help. While you wait for them to arrive, you should open your doors and windows to increase the air circulation throughout your home. If you have a sump pump, you should also use it to begin pumping the floodwater out of your home.
Safety First
Having a home free from water damage doesn't do you much good if you get sick or injured in the process. There are numerous safety hazards brought on by water damage. These include bacteria in the floodwater, mold growth, structural damage, and electrocution. It is always best to play it safe, and you should avoid all contact with floodwater by contacting a cleaning and restoration company to take care of the damage.
Call A Professional Water Damage Cleanup Company For Help
A professional cleaning and restoration company is a key component of the water damage restoration process for three main reasons. It is 1) quicker, 2) safer, and 3) more effective. It is quicker because water damage restoration companies have greater manpower and industrial equipment that significantly increases the speed of the restoration process. It is safer because it keeps you free from the aforementioned dangers of water damage cleanup. Expert water damage restoration technicians have the experience necessary to avoid these hazards. Finally, it is more effective because of the superior equipment and experience water damage restoration companies have. Put simply, calling a professional water damage cleanup company after a flood is the best decision you can make for quickly, safely, and effectively repairing water damage.
Do What You Can To Speed Up The Process
Even though a water damage cleanup company will do the brunt of the work, there are still things you can do on your own to speed up the process. This is important because it decreases the amount of time that flood water remains in your home damaging your home and possessions. You can do this by opening your doors and windows, turning on any available fans, and using a sump pump if you have one.
Professional Water Damage Cleanup In McKinney
Don't let the simplicity of each of these tasks allow you to become complacent. Make sure you actively engage in each one of them after a flood and you will be well on your way to minimizing or preventing water damage in your home. Also, do not forget to contact your local water damage cleanup crew in McKinney at D&W Restoration. We will be able to help minimize your worries and fix the damages.