How To Respond To Water Damage – The Right Way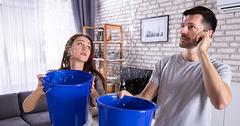 Unfortunately, water damage is unavoidable for many homeowners in Frisco. The good news is that knowing how to respond can greatly decrease the damage your home sustains. There are three common mistakes made by many homeowners following water damage that can increase the amount of damage your home sustains. We at D&W Restoration want you to know these mistakes because they are 100% avoidable.
1. Failing to respond quickly
A quick response to any water damage emergency is critical to reduce the amount of damage to your home. Prolonged water exposure can lead to a number of serious structural problems, including deteriorating drywall and insulation, rot, and mold growth. The source of the water needs to be addressed and stopped as quickly as possible so that extraction and drying can then begin. Getting the water completely dried as quickly as possible will ensure the least amount of damage and also result in a successful restoration.
2. Inadequate extraction, drying, and dehumidification
Many homeowners will try to clean up the water damage on their own. Consequently, that usually means that the equipment used is not professional grade so results will not be up to par. Without the use of proper water extraction equipment, commercial grade air movers, and dehumidifiers, water will not be thoroughly dried. Porous materials, like wood, drywall, upholstery, and insulation, absorb and hold onto excess water and moisture. Since this moisture is not always seen, many homeowners attempting to cleanup water damage on their own make the mistake of thinking that all the water has been dried when in reality it hasn't. The real risk here, along with long-standing structural weakening and damage, is mold growth. Mold can grow in as little as 48 hours following exposure to water, and the longer that water and moisture is present, the more rapidly mold will grow and spread. Mold growth in homes can cause respiratory symptoms such as coughing, sneezing, watery eyes, itchy throat, headaches, and increased allergy sensitivities. Without the proper experience and equipment, inadequate water extraction, drying, and dehumidification will lead to unnecessary extra damage.
3. Not calling a professional water damage cleanup company
All of these avoidable mistakes can be taken care of in just one simple step – calling the pros. Water damage cleanup is an extensive project that requires the proper training, experience, and equipment to thoroughly, safely, and adequately remediate. The best decision a homeowner can make following water damage is to call a certified professional restoration company. Find a company that is available 24/7 with emergency response services so they can start the cleanup process as soon as possible. Professional companies will not only be able to respond immediately, but they will have all the equipment necessary to ensure that the damage is cleaned up the right way.
When your home needs water damage restoration, D&W Restoration is ready to act. Our mitigation process is proven to keep damages to a minimal, while restoring your home as quickly as possible. Available 24/7, we can act fast to remove and extract all water, restore and rebuild any damaged areas, and offer claim assistance with your insurance. When disaster happens, contact us.