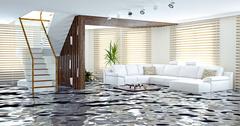 You've finally done it. You're a first-time homeowner. The long hours at the office, the tireless house hunting, the loans. Oh, the loans. But it's all been worth it because you now have your very own home! It is an exciting time! However, in all your excitement, you forgot to take notice of some serious tell-tale signs of recent water damage. But is it really that bad? The short answer is yes. Mold growth, black water, and the potential for electrocution are just a few of the potential issues caused by water damage that could pose real threats to your home and your health. From the experts at D&W Restoration, here are some issues that could cause you some grief when cleaning up water damage if not taken care of properly.
Mold Growth
Extreme water damage, such as flooding, can of course aid in mold multiplication. But any amount of accumulated moisture in your home can grow mold, such as a leaking pipe. Dangerous molds, such as pathogenic or toxigenic molds, can grow within 48 hours and can continue to grow throughout your home for as long as it goes unnoticed. It can also proliferate throughout any area of the home, not just the basement or attic. Mold may be a particular threat to those with allergies, asthma, or other respiratory illnesses, as well as immunosuppressed persons. However, even healthy individuals are susceptible to the negative bodily effects of mold. Short term effects can mimic seasonal allergies, such as wheezing, watery eyes, and skin irritation. Unfortunately, left untreated, mold spore inhalation can lead to lung infections, bone marrow infections, and even death.
Black Water Contamination
Black water is water that is severely contaminated by hazardous materials, most often caused by flooding and sewage leaks in homes. Incredibly dangerous, black water should never be attempted to be cleaned as a normal water spill. Brown or black staining under carpet, sheetrock, or wood can be signs of improper black water cleanup, as the bacteria can seep into these materials and continue to grow even after the water has supposedly dried or been disposed of. As with any hazardous waste, only highly-trained professionals should handle black water. E-Coli, Tetanus, Hepatitis, etc. are all potentially fatal diseases that may be caused by encountering and interacting with black water.
Electrocution
Advanced technology and electricity have become commonplace in the average, modern home. This means that almost anywhere in the house can be a disaster waiting to happen when it comes to untreated water damage. Water can seep into power outlets, appliances, cables, and lighting fixtures. Even if appliances look new and uninjured, debris or other contaminants from the water damage can affect the appliances long-term. Electrical fires, electrical shocks, and fatal electrocution can all be caused by water damaged or waterlogged household items.
Water Damage Cleanup Mckinney
If you suspect your new home has unmentioned and untreated water damage, be sure to contact professionals to clean and investigate the damage. Trying to assess, dry, and clean your house due to water damage is not only time consuming, but extremely dangerous D&W Restoration is an experienced, certified, and locally owned home restoration company, located in McKinney, Texas. With an extensive, four-step water mitigation process and an emergency phone line available 24/7, D&W is easy to contact, and even easier to work with. They offer a variety of services and support multiple areas in Texas. You've already done all the work to purchase your new home, let the professionals take care of any water damage cleanup needs for you.