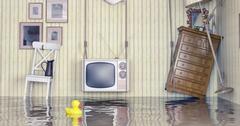 Water damage can come in many different ways. The damage it causes can range from mild to severe. Water damage experts have classified the severity of water damage into four different classes. Hopefully, you won't have to deal with water damage, but if you do, it is wise to understand the type of water that can affect your property and how to handle it. If water damage does become an issue for you, you can count on the professional water damage restoration team at D&W Restoration in Frisco to help you!
Class 1
Class 1 water damage occurs when there is minimal floodwater and the materials it has been exposed have low porosity levels. Because of this, this type of damage does not require as intensive of a cleanup process as the others. Nonetheless, it is still recommended that you call a professional cleaning and restoration company for help. Even cleaning up a minor water damage mess can be a big headache for you, but a cleaning and restoration company will be able to take care of the damage quickly and with no trouble for you.
Class 2
Class 2 water damage occurs when a significant amount of floodwater is discharged and the materials exposed to the floodwater range from medium to high porosity. Due to the higher porosity levels, these materials are far more likely to absorb the floodwater. This absorption increases the amount of damage your possessions receive (rendering them completely unusable in some cases) and increases the time required for the restoration process. This is because it takes far longer to remove water from materials that have absorbed it. Examples of this type of damage are a ruptured pressurized water line inside a gypsum board wall, or a flooded wooden floor joist system.
Class 3
Class 3 water damage occurs when both large amounts of floodwater and highly porous materials are involved. This requires a massive undertaking of removing the water and drying it out. At D&W Restoration, we pull out all the stops to speed up the drying process. That includes using our water pumps, air movers, and dehumidifiers. Examples of Class 3 damage are a storm-forced leak, which floods a building's interior and soaks carpeted areas, or broken water mains filling an underground parking area.
Class 4
Class 4 damage occurs in a similar way to Class 3 damage. The difference is that the floodwater in Class 4 damage is trapped by building materials making it unusually difficult to remove. Calling a cleaning and restoration company is your only route to make it out of this mess.
Water Damage Cleanup Professionals In Frisco, Texas
Whether the water damage you experience in your home is Class 1, Class 4, or anywhere in-between, our team at D&W Restoration in Frisco, Texas is here to help! Time is of the essence with water damage restoration. In fact, every hour you wait to begin the restoration process can lead to significantly more damage in the long run. So don't ever hesitate to call and our team is ready to respond with our 24/7 emergency response services.